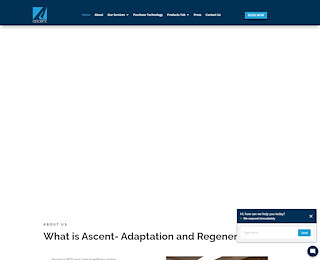 Visit Ascent when you're looking into alternative regerenative therapies in Costa Mesa. You'll find a broad range of treatment options available from Ascent, including proven-effective treatment options such as LightStim LED Therapy, BEMER, CVAC, and many others. If you have questions for our staff or are looking into alterative treatments for a medical condition, we welcome your phone call at 949-474-4404. Don't hesitate to contact us for information or to schedule a visit to Ascent to try one of our regenerative therapies in Costa Mesa.
5 Key Benefits Of Regenerative Medicine
1. Regenerative therapy is a non-invasive alternative to conventional medical treatment. When more traditional methods prove to be unfruitful or have negative side effects that should be avoided, regenerative therapy is a safe option for patients to try. At Ascent, we highly recommend LED Light Therapy to our patients because of its proven safety and effectiveness. LightStim releases endorphins to inhibit pain, protects skin from UV damage, and accelerates wound healing. For more information, click on 'Our Technologies'.
2. Our therapy regenerates damaged cells and allows the body to heal itself; therapies offered at Ascent are a safer option than stem cell therapy and are painless, so you have absolutely nothing to lose by trying one of our protocols. A brief 8-minute session with our BEMER technology can improve general blood flow throughout the body, improve cardiac function, increase endurance, strength, & energy, and help you get a better night's sleep. Find out more about all of our regenerative therapies in Costa Mesa when you contact Ascent today.
3. If you're seeking a non-surgical option to address chronic pain or the symptoms of illness or disease, you may be considering stem cell treatment; however Ascent's therapies are safer and less invasive. Spending time in our CVAC chamber will allow you to breathe in pure oxygen, giving you a feeling of mental acuity while reducing inflammation and swelling. You'll also experience accelerated healing times and reduction of chronic pain through CVAC.
4. Our regenerative therapies in Costa Mesa are considered by medical experts to be a more personalized form of medicine compared with conventional treatments. If you're concerned that your doctor doesn't have your best interest in focus when suggesting a treatment plan, we encourage you to look into natural alternatives at Ascent.
5. If you're looking to avoid prescription medications, general anesthesia, invasive treatments, and other less-than-ideal forms of treatment, regenerative therapies in Costa Mesa can be a safe option for your recovery from injury or illness. Find out more about ultra-modern technologies used to safely treat a host of medical conditions when you explore the free resources on Ascent.
Call our staff at Ascent today or contact us online to get started on a treatment plan that is right for you. Book a visit to our Costa Mesa gym of the future, purchase supplements from our site, or look into the benefits of owning your own regenerative equipment to enjoy the benefits of safe therapy from the comfort of your home.
Regenerative Therapies Costa Mesa
Ascent
9494744404
3300 Irvine Avenue
Newport Beach
CA
92660
View Larger Map
We welcome your comments!